NZers asked to keep an eye out for kereru

NZ Newswire
15/09/2016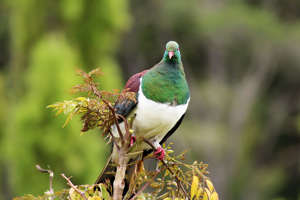 The search is on for sightings of kereru as part of ongoing efforts to protect the native pigeon and to save native forests.
The annual Great Kereru Count begins on Friday and will run for 10 days, during which people across the country are being asked to spot the bird, whether in backyards, schools, parks or reserves.
The aim is to help to build a comprehensive picture of where kereru are and aren't found.
Count co-ordinator Tony Stoddard says the birds, known as the "gardeners of the skies", play a key role in forest regeneration.
He says the count is critical not just for protecting the species, but also for ensuring the vitality of the forest eco-systems.
Victoria University senior lecturer in ecology Dr Stephen Hartley says researchers have been building a detailed picture of how kereru are distributed across the country, what they are feeding on and the extent to which they in towns and cities.
"Over time, we hope to discover whether numbers are increasing or decreasing and whether populations are faring better or worse in some parts of the country compared to others," he said.
"Even if you don't see a kereru this time, that's still useful information and important to submit."
Observations can be added to the Great Kereru Count or the NatureWatch NZ websites.
The count has been going since 2011 and last year there were 8743 reported sightings and 19,640 kereru counted.