NZers protest Trump's inauguration

NZ Newswire
20/01/2017
A Love Trumps Hate event, and a women's march will be held in Wellington, and Aotearoa Against Trump will be holding a "peaceful protest" in Auckland.
Green MP Julie Anne Genter, investigative journalist Nicky Hager and climate change activist Aaron Packard will be speaking at the Love Trumps Hate event in Wellington.
Speakers from the trans community, the union movement, the Mexican community, the Palestine solidarity movement, the feminist movement and the climate justice movement will be appearing at the Aotearoa Against Trump event in Auckland.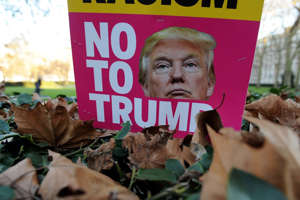 "Today isn't just about Trump, it's about saying we reject the politics of hate and division wherever it rears its ugly head, and instead, we're working for a politics of inclusion, of respecting difference, and of cooperation," Ms Genter said.
The women's march in Wellington will begin at 10.30am on parliament's grounds and Love Trumps Hate will follow in Civic Square at midday.
"A key message of Aotearoa Against Trump is that Trump's victory is an attack on many marginalised communities," Aotearoa Against Trump organiser Sam Vincent said.
"We will make it clear that Aotearoa stands for justice and does not support a Trump presidency."
He adds that Aotearoa Against Trump does pro-Clinton as an alternative.
The Aotearoa Against Trump in Auckland will begin in Aotea Square at 1pm, followed by a march to the American consulate on Customs Street East.
Police say they are aware of the protests, and "will respond appropriately to any issues that may arise," including traffic disruptions