NZX 50 hits record high

NZ Newswire
10/05/2016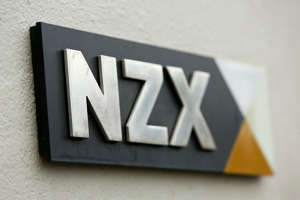 © Hagen Hopkins/Getty Images NZX 50 hits record high finance New Zealand shares rose, pushing the S&P/NZX 50 Index to a record high as Air New Zealand and A2 Milk gained while Sky Network Television extended its slide.
The S&P/NZX 50 Index rose 24.36 points, or 0.4 per cent, to 6,909.41. Within the index, 26 stocks fell, 15 gained and eight were unchanged. Turnover was $151.5 million.
Air New Zealand rose 2.6 per cent to $2.36. It's fallen 22.2 per cent this year, tracking lower after it hit a 13-and-a-half year high in January when oil prices hit record lows.
Matt Goodson, managing director at Salt Funds Management, said weaker oil prices overnight were probably the key to the airline's improvement.
A2 Milk Co gained 5.7 per cent to $1.87, Genesis Energy rose 2.2 per cent to $2.14, and Metro Performance Glass advanced 1.7 per cent to $1.75.
Sky TV stayed on its downward track, down 2.1 per cent to $4.21, having tumbled almost 22 per cent in the previous two trading days after saying subscriber numbers were expected to fall further this financial year, causing earnings next year to miss analyst estimates.
"It's still very much under pressure but you have to remember it's about where it started from when the exchange traded funds-related buyers started," Goodson said.
Dual-listed banks gained on both sides of the Tasman, with ANZ up 2.7 per cent to $26.80 and Westpac gaining 2.4 per cent to $34.16.
New Zealand Refining dropped 3.9 per cent to $2.69, and Steel & Tube Holdings fell 1.4 per cent to $2.15.
Spark declined 1.3 per cent to $3.69. It will take over the naming rights for Auckland's 12,000-seat Vector Arena starting in April 2017, re-naming the venue the Spark Arena. Vector, which had held the rights for 10 years, fell 0.6 per cent to $3.48.
Comvita rose 1.7 per cent to $12.20. The manuka honey company boosted annual profit 68 per cent as Australian sales soared, overtaking New Zealand as its largest market.
APN News & Media, which is listed on the ASX and NZX, remained halted at 72 cents. The trading halt was put in place ahead of APN's annual meeting on Wednesday, and reflects a potential material transaction involving the New Zealand assets, the company said this week.