NZX dragged lower by SkyCity; Air NZ rises

NZ Newswire
21/10/2016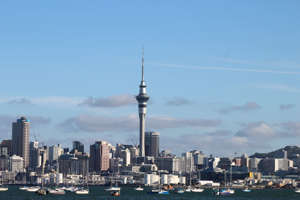 © Toni Kapeli / EyeEm/Getty Images NZX dragged lower by SkyCity; Air NZ rises New Zealand shares were mixed, with the index dragged lower by SkyCity Entertainment Group while Orion Health Group and Kathmandu Holdings rallied.
The S&P/NZX 50 Index dropped 15.38 points, or 0.2 per cent, to 6,958.4. Within the index, 29 stocks rose, 16 fell and five were unchanged. Turnover was $121.6 million.
SkyCity fell 11.9 per cent to $3.76, a one-year low. The casino operator posted weaker first-quarter revenue due to lower gaming and high-roller activity in Auckland, difficult trading conditions in Darwin, and the higher level of the kiwi dollar against the Aussie.
Interim chief executive John Mortensen has warned there will be a drop in the immediate term in the business it gets from high-rollers following a Chinese government corruption crackdown which has led to detention of 18 Australian Crown casino employees.
"It's not a good start to their financial year, there's a bit of uncertainty as to the Chinese issue which might play on bringing gamblers over," Grant Williamson, director at Hamilton Hindin Greene, said.
Z Energy declined 1.7 per cent to $8.01 and Fletcher Building dropped 1.7 per cent to $9.89.
"Fletcher's also really weighing on the index, some of the blue chip stocks are trading higher but it's put pressure on the downside. It's a real mixed bag today, and there's still a weight of selling in this market," Williamson said.
Orion Health was the best performer on the index, up 3.8 per cent to $3.27, while A2 Milk Co rose 3 per cent to $2.09 and Kathmandu Holdings gained 2.1 per cent to $1.97.
Air New Zealand advanced 1.9 per cent to $1.84, and Summerset Group Holdings was up 1.5 per cent to $4.68.
Outside the benchmark index, Pumpkin Patch was placed in a trading halt at 6 cents. The embattled childrenswear retailer says there's virtually no value left in its equity after discussions with its bank were unsuccessful.
It's been working with its bank over capital constraints, and expects to complete "further work and discussions with relevant stakeholders" in the next few days and will announce that to the market when an outcome is clear, it said.
Seeka Kiwifruit Industries was unchanged at $4.55, and has gained 32.2 per cent this year. The largest kiwifruit grower in New Zealand and Australia is forecasting up to an 86 per cent lift in annual net profit in 2016, and is changing its name to just Seeka.