Olympian Lovett retires from canoeing

NZ Newswire
24/01/2017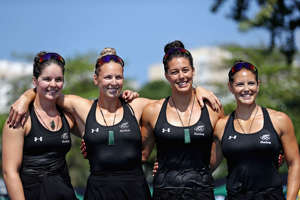 Olympic sprint canoeist Jaimee Lovett says the sport is going from strength to strength in New Zealand, making it easier to announce her international retirement.
Lovett was part of the women's K4 which made history at Rio by qualifying for the final.
Caitlin Ryan, Kayla Imrie, Aimee Fisher and Lovett finished fifth, missing out on a medal by just over a second.
They collected gold and bronze medals at World Cups leading up to the Olympics.
Whakatane-based Lovett, who has paddled for 10 years, was the senior member of an inexperienced crew at 28.
She says the time has come to put her focus elsewhere, clearing the way for a host of talented paddlers others to gain international experience.
"When I came back to training late last year, knowing how much work I needed to get back to that level, the desire to be better just wasn't there," she said.
"I'd peaked, I'd got to the top of my mountain, and I didn't want to climb another one. I'm proud of what I achieved and that's enough for me."
Lovett says the high performance programme, which comprises three full-time coaches, is rapidly turning New Zealand into a canoe sprint force.
A host of talented female paddlers in particular are emerging the wake of the success enjoyed by double Olympic K1 champion Lisa Carrington, she says.
Lovett's immediate plans are to travel to Germany to join partner Shea McAleese, the veteran Black Sticks hockey international.