Oracle Announces Its Cross-Platform Marketing Cloud

TechCrunch
1/05/2014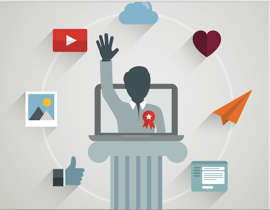 Oracle today announced the launch of , a platform that combines technology from a number of the company's acquisitions, including , , , and .
As suggested by that list, the Marketing Cloud will cover a pretty broad swath of capabilities, allowing customers to run marketing campaigns (and manage data related to those campaigns) on web, social, mobile, and email. It also integrates with , and includes tools for content marketing.
It sounds like a big part of the announcement is bringing many of the marketing capabilities that Oracle could already offer under the broad umbrella of the Marketing Cloud. In , Oracle emphasizes three big selling points — simplicity, readiness for enterprise use, and "customer centricity."
On the last point, it says the Marketing Cloud will be "providing marketers with the most advanced and easy-to-use cloud-based solutions for unifying customer data, engaging the right audiences across paid, owned and earned media, and analyzing performance."
The company also says early customers have already seen improvement. Thomson Reuters reported a 175 percent increase in attributable revenue, the Golden State Warriors enlisted 300 percent more Twitter followers, and Zurich NA saw a 10 percent increase in rentetion.
Oracle is launching the product at an event in New York. I spoke beforehand to Senior Vice President Reggie Bradford (who was previously founder and CEO at Vitrue, another Oracle acquisition), who told me that the company will also be "really aggressively driving that migration path" away from traditional systems to Oracle' various cloud applications with a new Customer 2 Cloud program that offers customers financial support for the transition.
.