Outlaw land banking: Peters

NZ Newswire
19/05/2016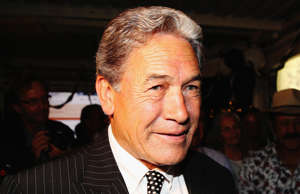 Winston Peters has come up with a radical solution to Auckland's housing crisis - force speculators to develop their land.
As the government and Labour find common ground to tackle the shortage, the NZ First leader says they've lost the plot.
"Instead of addressing the real issues of artificial demand and speculative land banking, they want to create an ugly, urban sprawl with no supporting bus and rail links or other critical infrastructure," he said on Thursday.
"New Zealand First would legislate to outlaw land banking just as Hong Kong does, where no one can sit on land for more than two years without developing it - if they don't develop they are penalised."
Labour wants Auckland's urban growth boundary scrapped to free up more land for housing in the city's growth areas in the north, north-west and south.
The government agrees, and Finance Minister Bill English says Auckland Council is on notice to deliver more houses or risk intervention.
"The fact that Labour and National can agree on what in the past has been a pretty controversial proposition is a strong signal to Auckland Council that central government could step in if it needs to," he said on Wednesday.
Labour's housing spokesman, Phil Twyford, says the boundary creates artificial land scarcity and drives up the cost of sections.
He says land inside the boundary is up to 10 times more valuable than the rural land outside it.
Auckland Council's unitary plan, which will outline what the city's future land and housing development will look like, is currently being drafted by an independent panel.
The panel's recommendations are due back in July and from there it will be up to the council to make the final decisions.