Packer triumphs in duel of Tigers recruits

NZ Newswire
20/05/2017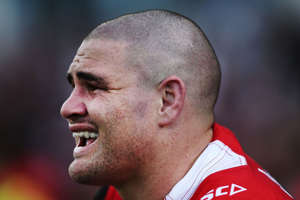 It's the old cliche - forwards win you NRL games.
And in hulking duo Russell Packer and Ben Matulino, the Wests Tigers may well have secured a few 2018 NRL victories already.
The close friends, Kiwi compatriots, former Warriors teammates and future Tigers props squared off for their current clubs on Friday, with Packer's high-flying Dragons taking on Matulino's erratic Warriors in Hamilton.
In his 200th NRL appearance, it was the 23-cap Warrior who drew first blood, crashing over on the left to give his side a 12th-minute lead.
But the in-form Packer eventually earned the last laugh, as the Red V carved through the Warriors' middle to secure a 30-14 victory.
With 161 running metres to his name, Foxton-born Packer was too hot for the Warriors to handle alongside propping partner Paul Vaughan.
Repeated victories at the ruck, quick plays of the ball and easy linebreaks had the Warriors' backs scrambling - and leaving gaping holes down the flanks.
Four of St George Illawarra's six tries were scored down their left edge.
"All of our forward pack is playing at a really high level, got a lot of quality players and we're building a great culture," Packer said.
"They were hard, they always go hard, but we were just better on the day."
Packer confirmed his move to Concord on a four-year deal earlier this week, bringing a three-year association with the Dragons to an end.
The 27-year-old was pulled from the doldrums by the club at the start of 2015 after serving 12 months in prison for an assault in Sydney.
He duly spent a year in the NSW Cup for the Illawarra Cutters before returning to first-grade NRL action and going on to make 33 Saints appearances.
He'll be joined in orange and black in 2018 by Matulino, who announced his own three-year contract with the joint venture last month.
Packer acknowledged there was every chance the pair could be reunited ahead of schedule, with Jesse Bromwich's post-Anzac Test indiscretion leaving a gaping-wide hole in the Kiwis' World Cup front row.
"Ben's the same as me - we've just got to play well for our clubs and if we're fit and in good form, hopefully (David) Kidwell picks us," the three-cap Packer said.
"It's such a long game, you never know what's around the corner.
"I'm looking forward to linking up with him next year but, probably just like me, he's focused on 2017."