Paddon prepares for WRC return in Portugal

NZ Newswire
16/05/2016
Hayden Paddon's bid to build on his breakthrough win in the World Rally Championship will come on a course that doesn't play to his natural strengths.
After his victory in Argentina in April, Paddon has been preparing for this week's round in Portugal with co-driver John Kennard.
"I enjoy this rally, although I would describe it as a medium-speed event which doesn't fit my natural style as much as other, faster events," he said.
"However, our performance in these slower, more technical events is an area we've been improving a lot recently, so we'll continue that here."
When Paddon piloted his Hyundai across the line in Argentina, he became the first New Zealand driver to win a WRC event in the championship's 40-year history.
The result lifted the 29-year-old from Geraldine to second on the points table behind world champion Sebastien Ogier.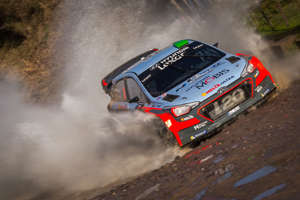 Although boosted by his success, Paddon said it was business as usual heading into the fifth of the year's 14 rounds.
"While the confidence is high, our feet are still firmly on the ground," he said.
"The challenge is greater now with the expectations of our performance and our road position."
The running order for the majority of a WRC rally is according to championship standings, so Paddon's new status means he will be doing more of the road sweeping for the drivers behind him.
"Our road position means the first pass of the sandy stages will certainly be looser and more challenging," he said.
However, the rival that Paddon was focused most on was Ogier and he wanted to stay as close to the Frenchman as possible in equal conditions.
The rally, which is based in northern Portugal, will begin on Friday (NZ time) with a ceremonial start and a super special stage.