Paddon races in memory of killed spectator

NZ Newswire
7/02/2017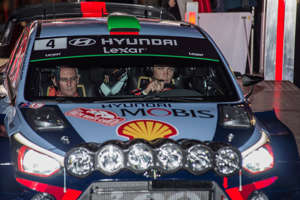 © AP Photo/Christian Alminana Kiwis Hayden Paddon and John Kennard will wear black arm bands in round two of the World Rally Championship in memory of the spectator killed in Monte Carlo. Kiwi driver Hayden Paddon will dedicate his drive in Sweden this week to the spectator killed in round one of the World Rally Championship.
Paddon pulled out of the Monte Carlo Rally in January after losing control of his car and hitting a corner. The impact caused the spectator to tumble down a bank and he later died.
The victim was reported to be a 50-year-old Spanish man but it appears his name has not been released.
Paddon and co-driver John Kennard say it took time to come to terms with the incident.
The pair say they have been humbled by messages of support and will wear black armbands during the three days of Rally Sweden starting on Thursday.
"After two weeks to gather ourselves, we are back and with extra motivation to perform this week," Paddon said.
"While it's important we get back in the car it's even more important we get back to enjoying the driving.
"We will show our respect this week by wearing black arm bands and will be competing in memory of the spectator."
The WRC's only true winter rally, often raced in snow, Rally Sweden is favoured by Hyundai driver Paddon.
He was second last year, becoming the first non-European driver to snare a podium finish.
More than half of this year's race is new, ramping up the need for detailed reconnaissance.
"It's a good rally for us to build the confidence back," said Paddon, who is pleased with the car's additional power compared to the 2016 model.