Palmerston North gets the pies in rejig

NZ Newswire
8/06/2017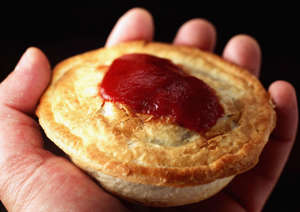 © Ian Waldie/Getty Images Meat pie. Goodman Fielder plans to close two factories in Auckland, consolidating their production to a single site and shifting its pie-making operation to Palmerston North.
This comes as part of an ongoing efficiency drive in what it calls "a very competitive market".
The diversified manufacturer owned by Singapore-based Wilmar International and Hong Kong-listed investment firm First Pacific Co will close its Irvines bakery at Wiri and its Hot Plate bakery in East Tamaki.
The Irvines line will relocate to Palmerston North while production at Hot Plate will be consolidated to Goodman's larger Quality Bakers Auckland facility.
Some 147 workers are affected by the company's plans, which include automating some warehousing functions in Auckland and Christchurch.
Goodman Fielder New Zealand managing director Tim Deane said the company's new owners "are taking a very long-term view" investing in some plants and closing others.
The net impact on the workforce may be smaller because 60 new jobs would be created at its Ernest Adams plant in Palmerston North and 25 at the expanded Quality Bakers Auckland site, he said.
"Both the Ernest Adams and Irvines businesses will be much more sustainable in the longer term," Mr Deane told BusinessDesk.
Goodman Fielder delisted in March 2015 following the takeover by Wilmar, an agribusiness group that is the world's largest palm oil producer, and First Pacific.
Goodman Fielder NZ's financial statements for calendar 2016 show revenue was $870.6 million, generating a profit of $29.3m.
Mr Deane said the new owners have invested $80m in the New Zealand business since 2015 and has another $150m of investment planned.
Goodman Fielder currently has 14 manufacturing sites in New Zealand and employs about 2000 people, according to its website. Its range of household brands include Meadowlea margarine, Meadow Fresh milk, Vogels, Molenberg, Tararua Dairy, Chesdale, Irvines, Ernest Adams, Olivani and Puhoi Valley.