Paramedics protest over fatigue

NZ Newswire
23/11/2016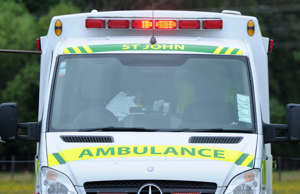 © SNPA Ambulance officers protesting by holding tea cups outside St John's Auckland offices on Thursday say short-staffing is leading to fatigue among paramedics. Paramedics have held tea cups during a protest outside St John's Auckland office because they say they are being overworked and do not get mandated rest breaks.
Around 40 First Union delegates and St John staff kicked off the tea cup protest at 12.30pm on Thursday.
"Once ambulance professionals finish helping one distressed person, they're called to help another," the union's ambulance professionals spokeswoman Lynette Blacklaws said.
"St John is so short-staffed there simply isn't time for a full rest break. This is driving fatigue and it isn't safe for the community or for ambulance staff," she said.
"Holding a tea break with our tea cups is one way we're going to send a message to St John that ambulance staff need an uninterrupted break."
First Union ambulance staff are also planning a uniform strike on Friday whereby they will still respond to emergencies but will be wearing tops reading, "Healthy Ambos Save Lives".