Parents to get back sick albatross chick

NZ Newswire
1/02/2017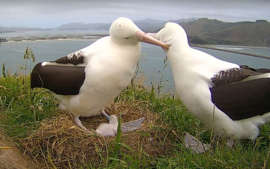 © Department of Conservation Two albatross with the sick chick at the Otago sanctuary.

The albatross "webcam" chick that hatched on the Otago Peninsula last week and has been undergoing veterinary care, should be back with its parents on Friday.
The albatross chick hatched on Saturday, but after dropping below its birth weight and being flyblown, the Royal Albatross Centre decided to put the baby bird in intensive care on Monday.
It was swapped with a foster chick for its parents, BK and RBK, to look after while it was recovering.
The sick chick has been on antibiotics and has put on weight with its foster parent in a nest which rangers can keep an eye on.
Chicks are often fostered at the colony and it improves chances of survival.
If it's not well enough to return to its own nest this week, staff will try and return the chick before it's six weeks old, as the adult albatross usually reject chicks that have been swapped after that stage.
BK, RBK, and the nest have been a hit online, as well as the previous nest which hatched Moana, when the Department of Conservation set up the webcam, dubbed Royal Cam, in January last year.
The webcam was set up at Pukekura/Taiaroa Head to document the albatross nest and highlight albatross conservation.