Parker says he's back to his best

NZ Newswire
30/09/2016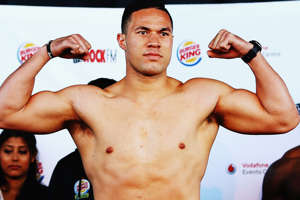 Kiwi boxer Joseph Parker says he's rediscovered his spark as he zeroes in on Saturday's crucial heavyweight bout against Alexander Dimitrenko in Manukau.
Parker, who weighed in at 109.88kg on Friday and stands 193cm tall, can progress to a title fight against world champion Anthony Joshua in November or March if he wins.
But the 34-year-old Ukrainian, who stands 201cm and weighed in at 115.15kg, can pinch Parker's IBF No.1 mandatory challenger position against Joshua if he wins.
While he's well aware of the challenge ahead, 24-year-old Parker says he's prepared well.
Instead of the 12-week training camp which preceded his victory over Carlos Takam in May, Parker says his eight-week preparation this time round has left him feeling sharper.
He's increased his weights regime, and put on an extra 2kg, but says there's been no loss of speed.
In fact, Parker feels he's returned to the form he displayed in beating Brazilian Irineu Beato Costa Junior in December 2014.
"We've cut down on the conditioning, but we've added the weights, and the weights have definitely helped put the strength on," he said.
"I feel like on the bag I'm punching hard - we've got the spark back. The last time I felt like that was the Costa Junior fight."
Giving away over 10cm in height to Dimitrenko, Parker says he'll have to fight smart to secure the win.
"The plan going into this fight is to fight like a small man," he said.
"I'm going to go out there and box him - use the speed I have, use the movement I have. I've also been developing head movement and better defence.
"I have to be wary of his power, of him coming in and trying to grab me and put his weight on me and drag my energy."
Veteran trainer Kevin Barry says Dimitrenko wil provide Parker with his biggest test, but he's confident they've done the hard work.
"We've prepared as well as we can for a fighter of his calibre. The guy's six foot seven, he's lost twice in 15 years - if that's not a big risk, I don't know what is.
"But if we're seriously thinking about going ahead and having Joseph prepare to fight for the heavyweight championship of the world, we need to fight guys like Alexander Dimitrenko."