Parker wary as Ruiz bout moves closer

NZ Newswire
6/10/2016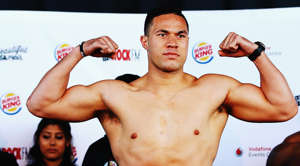 © Hannah Peters/Getty Images Joseph Parker Kiwi boxer Joseph Parker knows better than most how lethal potential opponent Andy Ruiz Jr can be in the ring.
In a sparring session in 2013, the 27-year-old Mexican-American struck Parker so hard, he ripped his mouth open.
"I couldn't eat for about three days," Parker said.
"So I know he's got a lot of power and experience, but I know that if I have a great training camp I'll beat anyone in the world."
Promoters for the south Aucklander say a bout between the pair for the World Boxing Organisation heavyweight title grows closer by the day.
Parker's camp are working behind the scenes to seal a deal with Ruiz's promoter Bob Arum, dependent on the stripping of incumbent Tyson Fury's title.
Fury reported positive to cocaine use and told Rolling Stone magazine on Wednesday he was taking drugs and alcohol to combat depression.
A decision on the British boxer's future will be made by the WBO in Puerto Rico in a fortnight.
Parker said he was sorry to see Fury, who has publicly praised Parker's ability in the ring, in such a poor state, but he had to focus on himself and his ambitions for the title.
"If he retires or loses it, that's not a good way of going out," Parker said.
"But I know you have to beat the champion to be the champion.
"People go through trials and things in life, but this is boxing."
Parker's fight with Ruiz is also dependent on Ukrainian veteran Wladimir Klitschko sealing a deal for a November fight with British IBF champion Anthony Joshua.
Should that deal fall through, Parker will flight Klitschko for the WBO crown.
However promoter Dean Lonergan felt that was unlikely, and expected to see Parker go toe-to-toe with Ruiz in December in Auckland.
The fight for the WBO belt could be seen by up to 100 million people worldwide and would be the first title bout on Kiwi soil.
"We're in ongoing discussions and I think we're close," Lonergan said.
"I've just been running around in the last week getting together sponsors and people who can make this happen from a financial point of view."
Parker returns to his home base of Las Vegas on Sunday.