Paul Simon thinking about retiring

Associated Press
2/07/2016
The first of Simon's two concerts in his native Queens, the conclusion of the singer's North American tour, took on an added resonance when he mused to The New York Times in an interview this week that he may be nearing retirement. Simon turns 75 in October.
Simon didn't address the subject on Thursday in a two-hour show at Forest Hills Stadium.
With nearly 60 years of music to choose from, Simon's heart - and much of his song selection - seemed to be in the multicultural period from his Graceland album on.
"It's kind of a time warp," he said, looking up at the sky over the US Open tennis tournament's former home.
"I'm trying to get over whether it's strange or just a beautiful dream."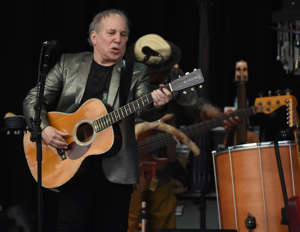 © TIMOTHY A. CLARY / AFP Singer Paul Simon performs at Forest Hills Stadium in the Queens borough of New York on June 30, 2016 The audience loudly cheered references to New York City in his music - a New York City winter in The Boxer, the Statue of Liberty in American Tune.
After getting people dancing to Me and Julio Down by the Schoolyard, Simon slyly noted, "and I know just where that schoolyard is".
He grew up in Forest Hills, Queens, and was 15 when he and a school buddy, Art Garfunkel, had a minor hit with the song Hey, Schoolgirl under the name Tom and Jerry.
The folk-rock duo they formed under their own names was among the biggest-selling acts of the 1960s.
Simon, the writer of the duo, went on to a fruitful solo career capped by this spring's Stranger to Stranger.
The album was praised by critics and somewhat surprisingly in a youth-obsessed industry, also has proven to be a commercial success.
Simon and Garfunkel have reunited occasionally in the more than four decades since breaking up, with their last show together in Forest Hills Stadium. The two are now estranged, and no reference was made to Garfunkel on Thursday. Simon played only two songs from their collaboration, The Boxer and Homeward Bound.