Paula Bennett to give evidence in Borrows case

NZ Newswire
15/02/2017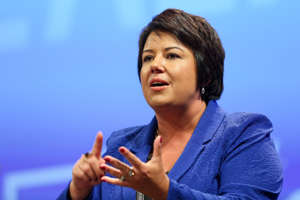 Deputy Prime Minister Paula Bennett is expected to be called as a witness in the criminal trial of her colleague, Whanganui MP Chester Borrows.
The deputy speaker is set to face a judge-alone trial in May on a charge of careless use of a motor vehicle causing injury.
Two Trans Pacific Partnership protesters claim they were struck by his car while he was leaving a protest in his electorate in March last year.
Ms Bennett, who has since become police minister, was a passenger in the car at the time.
"I expect she will be happy to come along and give her evidence," Mr Borrows told Fairfax.
Ms Bennett said it would be her first time being summonsed to give evidence in court.
"If I am called as a witness I have no choice (but to appear) and as such I'll certainly go and stand and tell the truth," she said on Wednesday.
"I just have no qualms about being minister of police and also being a witness, I just simply have to stand up and tell the truth and what happened on the day and that's what I intend on doing."
The trial is scheduled to begin in Whangnaui District Court on May 8.