Peters visits Pike River Mine gates

NZ Newswire
14/01/2017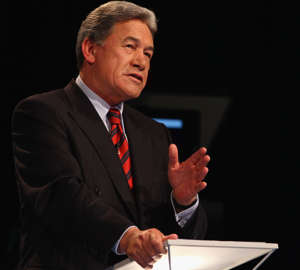 © AAP Image/Getty Images for TVNZ Winston Peters New Zealand First leader Winston Peters has visited with Pike River families at the gates of the coal mine where 29 workers died six years ago.
The families want the drift at the entrance of the West Coast mine to be entered but government-owned miner Solid Energy says it's unsafe and is permanently sealing the mine.
Mr Peters posted on Facebook on Saturday that he spent the afternoon with the families and their supporters.
Mr Peters will also be at a public meeting at Paroa Hotel in Greymouth at 11.30am on Sunday. The pub is owned by families' spokesman Bernie Monk, who lost a son in the disaster.
In December 71-year-old Mr Peters met with the families at parliament and offered to enter the mine himself.
He said he worked as a "second-class miner" on the Snowy Mountains Scheme in Australia and was aware of the dangers of mining.
"I am that confident in the expert advice that you have that I am offering to be on the first party that goes back in."
Prime Minister Bill English said Mr Peters should not trivialise the tragedy.