Philander returns for South Africa A

NZ Newswire
8/07/2016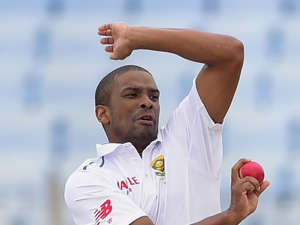 © AFP PHOTO / Munir uz ZAMAN Vernon Philander delivers a ball South Africa fast bowler Vernon Philander will return to international action for the first time in eight months on Saturday after recovering from ankle ligament damage.
The 31-year-old quick, who sustained the injury during a warm-up game of football in India last November, will play a four-day match for South Africa A against Zimbabwe in Harare.
The injury forced him to return home early and miss the subsequent series against England.
But Philander has since made three first-class appearances for Western Province and Cape Cobras at the end of last season, taking 10 wickets.
He sees playing for South Africa 'A' as a route back to the Test team for next month's two-match series against New Zealand.
"I never quite knew the severity of the injury until a couple of months after and it's been coming and going," Philander said.
"But these last few weeks it's really been holding up."
The return of the right-arm seamer would be a boost to South Africa, whose pace attack also missed the injured Dale Steyn as they lost 2-1 to England in the four-Test home series.
Philander, who has taken 126 wickets in 32 Tests at an average of 22.08, is in the A team squad for two matches in Zimbabwe plus two in Australia at the end of the month.