Phoenix confirm Beijing soccer fixture

NZ Newswire
30/05/2016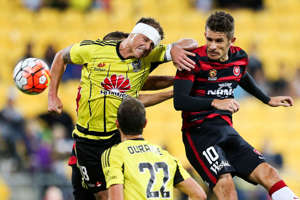 © Hagen Hopkins/Getty Images Ben Sigmund of the Phoenix defends against Dario Vidosic of the Wanderers during the round 27 A-League match between the Wellington Phoenix and Western Sydney Wanderers at Westpac Stadium on April 10, 2016 in Wellington, New Zealand Wellington Phoenix will play an A-League pre-season warm-up against Chinese team Beijing BG at the Bird's Nest Stadium in July.
The match, on July 27, marks the 10-year anniversary of the sister city relationship between the cities and will be played annually.
Phoenix general manager David Dome said the fixture would be an important part of the club's pre-season in the region, joining the annual Hong Kong Sevens in May as part of their off-season schedule.