Phoenix hunt revenge in City rematch

NZ Newswire
22/11/2016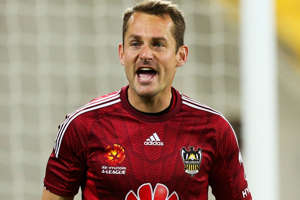 The memory of Wellington Phoenix's season-opening A-League loss to Melbourne City has goalkeeper Glen Moss thirsty for revenge in Sunday's rematch.
City edged the Phoenix 1-0 at Westpac Stadium early last month, despite playing the last half-hour with only 10 men.
"I thought we were unlucky not to get a bit more out of that game," Moss said after training on Tuesday
"We looked back at that one and thought they're definitely a side we can go over and get points off."
It took Wellington three more games, including a galling 6-1 defeat to Melbourne Victory, to record their first win.
Back-to-back 2-0 victories over Newcastle Jets and Central Coast Mariners finally lifted the Phoenix off the bottom of the ladder.
Their momentum was halted when last weekend's return match against the Victory was postponed following the magnitude 7.8 earthquake which devastated Kaikoura.
But Moss says the weekend off has been an unexpected bonus, giving the Phoenix's five All Whites returning from international duty a much-needed break.
"The guys that came back from the national team, they enjoyed a bit of a break and now we can hit the ground running," said Moss, one of the five on duty for New Zealand's home-and-away World Cup qualifier against New Caledonia.
Melbourne City currently sit second on the A-League ladder, and on paper should be too strong for eighth-placed Wellington, but Moss says it's time for the Phoenix to test themselves against the best.
"They're top of the table for a reason - they've got a good squad with good depth, and obviously a lot of attacking power so we're really going to have to concentrate."
One of City's most lethal attacking weapons is Uruguayan striker Bruno Fornaroli, who won last season's golden boot with 25 goals and leads this year's standings with six.
City's impressive array of firepower also includes former Everton striker Tim Cahill, who scored in last weekend's 1-1 draw with Western Sydney Wanderers, and Argentinian midfielder Fernando Brandan.
"I always enjoy the challenge of coming up against guys like that."
But Moss says Wellington are also finding their range in the attacking third, pointing to Roy Krishna's four goals for the season and a sharp performance from Hamish Watson up front last week.
"We're working on a lot of striking, a lot of finishing - the focus is on the other end, and hopefully we can bang a few more in."