Pike River protest ahead of PM meeting

NZ Newswire
13/02/2017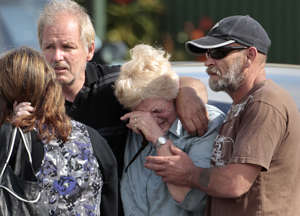 Pike River families will hold a protest outside Solid Energy's Christchurch headquarters ahead of their meeting with the Prime Minister.
Families of the 29 men killed in the 2010 mine disaster will carry effigies and flowers to the protest on Tuesday.
Prime Minister Bill English is expected to meet with families on Wednesday, honouring a commitment made last year.
Family representatives are also expected to front a select committee in Wellington on Thursday, where a petition by Dame Fiona Kidman will be considered by the commerce select committee.
The petition, which was signed more than 500 times, calls for Solid Energy to be stopped from sealing the Pike River mine and for the remains of the 29 men to be brought home if possible.
The state-owned energy company wants to seal the mine, but the families believe the drift - the tunnel leading to it - is safe to re-enter.
Labour and New Zealand First support the families, but Solid Energy says the mine isn't safe.
Mr English has previously said it's not a political issue, but rather a matter of safety.