Pilots appeal retirement age

NZ Newswire
13/06/2017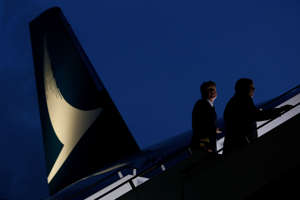 Arguments are under way in the Supreme Court for two New Zealand-based Cathay Pacific pilots who want to keep flying until they are 65.
In 2014, the Employment Court ruled that senior pilots David Brown and Glen Sycamore were being discriminated against by being forced to retire at age 55, despite entering into a contract with Cathay's subsidiary New Zealand Basing Ltd in 2002 that required them to.
Both turned 55 in 2015.
NZ Basing Ltd appealed the decision in the High Court in 2016 and won, although Mr Brown and Mr Sycamore were granted leave to appeal.
In his opening remarks in the Supreme Court in Wellington on Tuesday, the pilots' lawyer Philip Skelton said any decision hinged on whether the employment contract was in accordance with Hong Kong or New Zealand laws - Hong Kong law does not protect an employee from age discrimination.
Mr Skelton said a decision in 2006 from the House of Lords upheld that UK pilots could be protected under UK law from being unfairly dismissed.
"That decision, especially for people that work in different locations around the world, made it clear that employees would be governed by local laws, not Hong Kong's.
"There has been confusion in our lower courts in terms of jurisdiction and the Court of Appeal was in error in this case."
NZ Basing Ltd offered Kiwi pilots, including Mr Brown and Mr Sycamore, the chance to transfer to a new employment agreement in 2014, which would see them paid at a lower rate but allowing them to work until they reach 65.
There was a lot of interest in the hearing, Mr Skelton said, with the public gallery containing a number of pilots.