Plain packaging `removes responsibility'

NZ Newswire
1/09/2016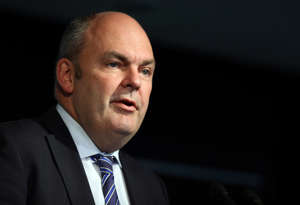 © Jason Oxenham/Getty Images Steven Joyce Removing branding from sugary drinks would take away responsibility for what goes into them, a senior cabinet minister says.
An Auckland University study released on Thursday said plain packaging and warning labels on sugary drinks could help reduce consumption among young people.
But Steven Joyce told Newshub branding was important because it identified products.
"Taking branding off would remove that responsibility," he said.
Mr Joyce says people can choose what they buy.
"It's all about motivation, people making healthy choices."
The study concluded that plain packaging would have a significant negative impact on young people's product choices.
It was also associated with less positive perceptions of those who might consume a product.
The study said plain packaging and warning labels could therefore be effective ways to reduce young peoples' intake of sugary drinks and help prevent childhood obesity.