Players responsible for Merrick's demise

NZ Newswire
6/12/2016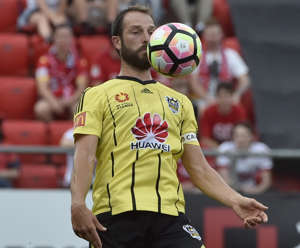 © AAP Image/David Mariuz Phoenix's Andrew Durante An emotional Andrew Durante says the Wellington Phoenix players have to accept that they are responsible for coach Ernie Merrick's resignation.
Merrick quit his job of more than three years after Wellington slipped to their sixth loss of the A-League season from eight matches.
He delivered the news at a team dinner on Sunday night following the Phoenix's 2-0 defeat to Adelaide United.
Wellington skipper Durante said Merrick's announcement stunned the team into silence.
"Ernie said he couldn't get the team going the way he wanted it to," Durante told a media conference in Wellington on Tuesday.
"No-one said anything - everyone was trying to take it in. They didn't really understand what was going on."
Once Merrick and his support staff left the room, long-serving goal keeper Glen Moss spoke.
"Mossy stood up and said 'this is on us'. And it is - the players have to own this," Durante said as he fought back tears.
"We have to accept that we are responsible for this. It's sad.
"He's been a great coach, a great role model for me and a great mentor, and we let him down."
Suggestions on social media that Merrick had lost the dressing room were wrong, Durante said.
"People come up with their own opinions that he lost the change room, lost the playing group.
"Never. There was never any of that. He had our full support."
Durante said it was now up to the players to get their season back on track under interim coaches Chris Greenacre and Des Buckingham.
They travel to Hamilton to face Central Coast Mariners on Saturday before playing Western Sydney Wanderers in Auckland a week later.
Five of Wellington's next seven matches are at home, with two away trips to Newcastle and Perth.
"We've got a great run of games coming up and there's no way we're going to throw in for this season," Durante said.
"There's too many good players in the team to throw this season away. I won't let it happen."