Plenty more to come from ABs: Hansen

NZ Newswire
15/12/2016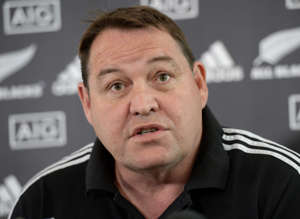 Steve Hansen won New Zealand Rugby's 2016 coach of the year on Thursday, but it's not the accolade that gives him most satisfaction.
That would be team of the year, which his All Blacks squad secured for the sixth year running after winning every 2016 Test trophy on offer.
Hansen, 57, has overseen the All Blacks since taking over from Sir Graham Henry after the 2011 World Cup, and went on to nab his own World Cup last year.
Yet the side has reached new heights in 2016, overcoming the loss of several senior stars to dominate the southern hemisphere with exciting running rugby.
A more challenging northern tour followed, including a 40-29 loss to Ireland in Chicago, but again the side found new ways to win through water-tight defence and efficient attack.
Hansen told reporters his new leadership group, headed by skipper Kieran Read, would take plenty of lessons from this year into 2017 and the mid-year Lions tour.
"The team award is the best award we can get because it reflects on everyone," Hansen said.
"Not many of the group have tasted adversity and Chicago was (that), it was the first time a large number of them have felt defeat and what comes with it."
Read, 31, said his first year in the captaincy had impressed on him the importance of pre-match groundwork, tactical preparation and mental focus.
But he'd be glad to accept 13 Test wins from 14 if offered a deal early in the season.
"It doesn't mean it doesn't hurt, any loss does, but we've made a lot of gains this year," the Crusaders No.8 said.
"There's only small margins between teams, so for us heading into the Lions, we'll play a similar style to what the Irish brought."
Meanwhile, last week's operation of Read's crocked hand has been a success, and the skipper will return for Super Rugby duty soon after the start of competition.
He had been playing through the pain barrier for much of the northern tour.
"It's a bit of a process, a few months on the rehab trail, but not too bad," Read said.
"Most rugby players have to deal with it at some point."