Plight of refugees highlighted

NZ Newswire
19/06/2016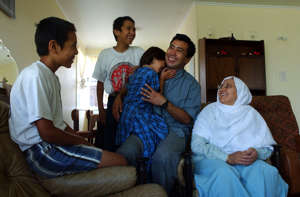 © Dean Purcell/Getty Images The Basiri family, refugees all the way from Afghanistan via the Tampa settle into their new home in Auckland. (LR) Hadi (11), Mawdi (12), Lila (4), Shahwali and Akimeh Awareness of the struggles of families displaced by war, violence and conflict are highlighted on World Refugee Day, agencies who support them say.
World Refugee Day on Monday comes after the government announced an increase in the annual refugee quota from 750 to 1000 from 2018, which some refugee advocates say is not enough.
On Saturday, Prime Minister John Key officially opened the rebuilt Mangere Refugee Resettlement Centre and said the government was not ruling out raising the quota again.
Race relations commissioner Dame Susan Devoy has said meeting former refugees and hearing their heartbreaking stories of survival "changed my life", and New Zealand could raise its overall intake through programs outside the official quota.
Save the Children chief executive Heather Hayden says during the last two decades New Zealand has opened its borders to thousands of refugees coming from Vietnam, Laos, Cambodia, Burma, Iran, Iraq, Afghanistan, Palestine, Syria, Kuwait, Tunisia, Algeria, China, Sri Lanka, Bosnia, former Yugoslavia, Somalia, Djibouti, Eritrea, the Sudan, Ethiopia, Burundi, Rwanda, the Democratic Republic of Congo, Republic of Congo, Sierra Leone and Columbia.
"World Refugee Day is celebrated on 20 June and marks a day when we all take a moment to imagine what it's like for the families who've fled war, violence and persecution," she says.