PM: Brownlee learning new portfolio

NZ Newswire
8/05/2017
Mr Brownlee struggled to find the right words to describe the situation on one of his first days in the portfolio, Mr English said on Monday.
One of the new foreign minister's first moves in the role was to write to Israel's Prime Minister Benjamin Netanyahu to smooth out diplomatic relationships following the resolution which said the nation's continued establishment of settlements in Palestinian territory constituted a violation under international law.
"He's getting familiar with the language the government's been using and in this world of diplomacy each word matters," Mr English said.
"I think he was just getting familiar with it. To be fair he was interviewed about this issue on about day one or day two of his tenure."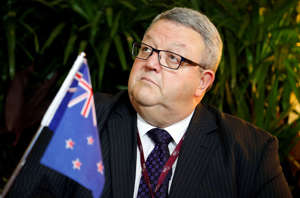 © Wong Maye-E Earthquake Recovery Minister Gerry Brownlee Mr English maintains the resolution expressed long-standing government policy.
Asked whether the description of the resolution as premature reflected Mr Brownlee's personal view, Mr English said he believed it reflected someone brand new on the job learning the language that goes with it.
There has not yet been a response to Mr Brownlee's letter, sent to mark Israel's Independence Day.
New Zealand was one of five nations to sponsor the resolution which was backed by 14 members of the UN Security Council.
The US abstained in a break from their own long-standing policy.