PM, Pacific leaders to talk climate change

NZ Newswire
9/09/2016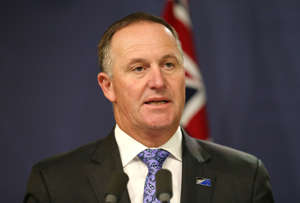 © AAP Image/David Moir John Key Climate change will be Prime Minister John Key's focus when he addresses the Pacific Island Forum leaders' retreat on Saturday.
Mr Key arrived in Pohnpei in the Federated States of Micronesia on Friday afternoon, missing the opening plenary but in time for more formal discussions.
Economic matters are likely to be a high priority, he says, but climate change and renewable energy will also dominate his conversations.
"You've got a lot of very low-lying states and so they're very focused on those issues, focused on what New Zealand's doing, also what support we can give them in terms of rolling out renewable energy, adaptation of their natural environment," he said on arrival in Pohnpei, the largest of the nation's islands.
Talks on climate change are expected to please the Green Party who earlier urged Mr Key to commit to resettling Pacific Islanders who face losing their homes to rising sea levels.
The PM and Foreign Minister Murray McCully will also follow up on the $50 million granted by New Zealand at last year's forum for improving management of the region's fisheries.
Mr Key, who enjoyed an informal dinner with Australian Prime Minister Malcolm Turnbull on Friday night, is also scheduled to meet with Nauru's President Baron Waqa and Papua New Guinea's Prime Minister Peter O'Neill for formal bilateral talks during the three day forum.