PM to focus on 'common interests' with US

NZ Newswire
6/06/2017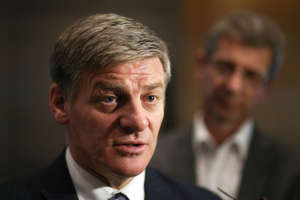 Prime Minister Bill English says the talks he's about to hold with US Secretary of State Rex Tillerson will focus on "common interests'' and keeping the relationship between the two countries strong.
They're sure to disagree on climate change and President Donald Trump's decision to pull the US out of the Paris agreement, but that's unlikely to be the main issue.
"We will express our disagreement with the US policy position on that, as well as the withdrawal from the Trans-Pacific Partnership, but the meeting I think will focus more on the ongoing relationship and our support for the US as a stabilising influence in the Asia-Pacific," Mr English told reporters on Tuesday.
"The talks will be about how we can both work to maintain that, because it is of such benefit to our economy and the region."
Mr English was speaking to reporters just hours before the meeting was due to take place in Wellington.
He said the government expected the US would continue to play the lead role in regional security.
"The US has a big reach with its defence forces and its influence, and it has been a very positive influence in the Asia-Pacific," he said.
Labour leader Andrew Little, also due to meet Mr Tillerson, says he'll be raising climate change with Mr Tillerson as well.
"The withdrawal from the Paris accord is far from being an act of leadership, it is the opposite, and that needs to be made clear," he said.
The meetings won't take place in parliament, although that's where Greenpeace activists are staging protests.
Three rain-soaked climate change activists climbed up a tall crane next to parliament and unfurled a banner saying "Climate Denial, Huge Mistake! Resist".
Campaigners expect more than 300 protesters to gather on parliament's forecourt on Tuesday afternoon.