PM urged to steer clear of Aussie election

NZ Newswire
30/06/2016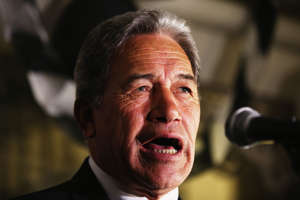 © Hannah Peters/Getty Images Winston Peters Prime Minister John Key should keep his nose out of the Australian election, NZ First leader Winston Peters says.
Mr Key on Wednesday made it clear he hoped Prime Minister Malcolm Turnbull would win on Saturday.
Mr Peters thinks that was a mistake.
"Malcolm Turnbull may well grasp defeat from the jaws of victory," he told reporters on Thursday.
"If that happens, we will be off to a very bad start with the new Labor government - he should keep his nose out of it."
Mr Peters thinks Mr Key's endorsement could be the kiss of death for Mr Turnbull.
"Given Mr Key's record of endorsement - National for the Northland by-election, the flag change, the TPPA, the UK remain campaign ... Mr Turnbull must be seriously worried."
Mr Key on Wednesday said he knew Mr Turnbull well.
"They're our sister party, I don't think there are too many guesses about who I like and who I would like to see win," he said.