PM wants talks after US immunity upheld

NZ Newswire
20/03/2017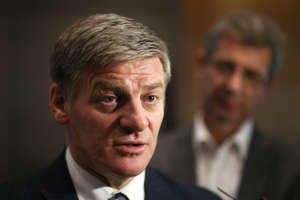 © Hagen Hopkins/Getty Images Bill English Further discussions might be had with the US after an application to waive immunity for a Wellington-based diplomat was refused, Prime Minister Bill English says.
A request was made last Monday to allow police to question the man, in line with New Zealand's policy for investigating allegations of serious crimes, after an incident in Lower Hutt.
Police were called to an address last Sunday but the man, a US-citizen, had already left the property nursing a broken nose and black eye.
After the waiver request was declined on Friday, MFAT asked the diplomat to be withdrawn and he left the country the following day.
Mr English said on Monday he hadn't been given a reason for the US decision not to waive immunity, but he doesn't expect that it will have any significant impact on New Zealand-US relations.
"There may be some further discussion to have but the matter is now with the US authorities," he said.
Mr English said it was expected that everybody in New Zealand obey New Zealand laws and that local authorities investigate any breaches.
"We regret that [the US] didn't give a waiver on immunity, but they didn't and now it's in the hands of their authorities," he said.
It's now up to US authorities to decide how to investigate the matter, he said.
A US government spokesman earlier said they do not comment on the specifics of matters under investigation.
"We take seriously any suggestion that our staff have fallen short of the high standards of conduct expected of US government personnel," he said.