Police investigate Auckland digger crash

NZ Newswire
10/05/2016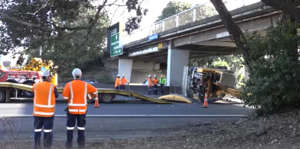 © Fairfax Crews work to clear the aftermath of a crash on the Southern Motorway. Police are investigating the incident that caused a "nightmare commute" for Auckland motorists after a truck carrying a digger hit an overbridge on a motorway.
The truck toppled over on the Southern Motorway on Monday afternoon after the digger on its trailer hit the Penrose overbridge.
All southbound lanes were initially closed, and traffic was delayed for hours.
Police have confirmed the load was overheight, and witnesses described seeing the high-visibility LED early warning signs activate on the truck driver's approach to the bridge.
Inspector Trevor Beggs said the roading gridlock led to thousands of motorists being inconvenienced.
"Yesterday was a nightmare commute home for many of us, and police want to assure the motoring public that anyone found to be responsible for the crash and the resulting traffic disruption will be held fully to account."
He thanked motorists for their patience.
Once the investigation is complete, police will determine whether any charges need to be laid.