Police numbers will increase: Collins

NZ Newswire
11/10/2016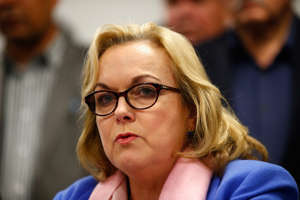 © Getty Images Police Minister Judith Collins The government is again talking about increasing the number of police, with Judith Collins saying she's "working through the numbers".
The police minister has told the Police Association's annual conference she knows demand for services have increased and there's pressure on resources.
"I take that very seriously and I have been discussing this with police and my colleagues for some time," she said on Wednesday.
"We're still working through the numbers but recently the prime minister confirmed that the government is likely to increase the number of police - this is great news for police and New Zealanders."
Prime Minister John Key said in August an increase in police numbers was likely over time.
That was soon after Ms Collins had said the ideal of having one officer for every 500 New Zealanders had slipped to one for every 526.
It also followed a pledge by NZ First leader Winston Peters that if his party was in government another 1000 police would be trained.
After her speech on Wednesday, Ms Collins indicated to reporters that she was asking for a substantial increase.
Greg O'Connor, the association's outgoing president, suggested there could be an extra 450 officers.
Since National came to power, police numbers have increased by more than 600.
Ms Collins used her speech to discuss recent family violence initiatives, saying the government was committed to reducing the damage it causes.
She also praised police for the way they're targeting illegal drugs.