Police praise well behaved NYE revellers

NZ Newswire
31/12/2016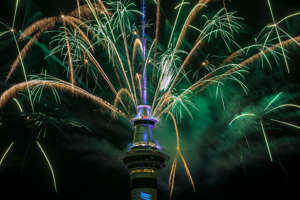 © Dave Rowland/Getty Images Revellers have been praised for their good behaviour celebrating the New Year in a night officers compared to a "moderately busy Saturday". Eight people have been arrested for drug offences at a New Year music festival but overall police say revellers were well behaved when welcoming in 2017.
A heavy presence and focus on prevention meant there were no major incidents at any of the country's main celebrations, police said on Sunday morning.
Officers have described the night as a "moderately busy Saturday night".
Trouble mainly came from minor disorder incidents, liquor ban breaches and intoxication, while there were "several breaches" of the liquor ban at Wellington's concert and fireworks on the waterfront where eight arrests were made.
Another eight people were arrested at the Rhythm and Vines music festival at Gisborne for drug-related offences and one was arrested on an unknown matter at Rhythm and Alps in the Cardrona Valley.
Police responded to several minor disorder events across Christchurch but praised "quiet and well behaved" partygoers at events in Hagley Park and Cathedral Square.
Revellers in Dunedin, Queenstown and Wanaka didn't stay out long after midnight fireworks because of the wet weather and while there were large crowds out in Whangamata and Mt Maunganui they were generally well behaved, police said.