Police shoot dead gunman who took hostages in German cinema

Reuters
23/06/2016
No other people were injured, a police spokesman said.
The attacker, who carried a rifle or "long gun", acted alone and appeared to have been a "disturbed man", the interior minister of Hesse state, Peter Beuth, told the regional parliament.
Police had not identified the man or established his motive, spokesman Bernd Hochstaedter said, adding that nothing immediately pointed to him having a militant background.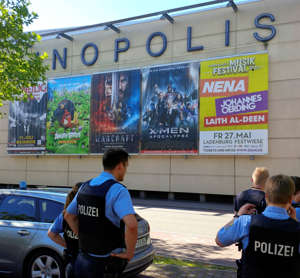 © Staff/Reuters German police walks past a cinema complex after a masked man with a gun and ammunition belt opened fire in Viernheim German television showed pictures of heavily-armed police, wearing helmets and body armour, storming the Kinopolis complex in Viernheim, south of Frankfurt, and a couple fleeing the building.
Cinema employee Guri Blakaj told Reuters the gunman, who appeared to be aged between 18 and 25 and was about 1.7 metres tall, entered the cinema at around 3 p.m. and told workers to get into an office.
He then went into a cinema theatre. Blakaj, who said there were about six workers and 30 cinemagoers in the building, then heard shots fired.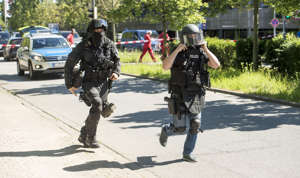 © Alexander Scheuber/Getty Images VIERNHEIM, GERMANY - JUNE 23: Heavily-armed police outside a movie theatre complex where an armed man has reportedly opened fire on June 23, 2016 in Viernheim, Germany. According to initial media reports, the man entered the cinema today at approximately 3pm, fired a shot in the air and barricaded himself inside. (Photo by Alexander Scheuber/Getty Images) Police special forces stormed the building and shot him.
There was still a heavy police presence at the scene into the late afternoon, and a helicopter circled overhead.