Poor finish costs Ko in Kuala Lumpur

NZ Newswire
28/10/2016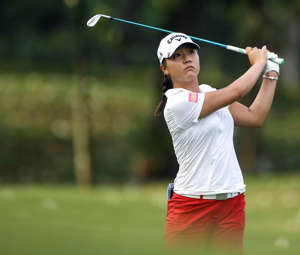 © AP Photo/Joshua Paul Lydia Ko follows her shot on the tenth hole during the second round of the LPGA golf tournament at Tournament Players Club A poor finish to her second round cost world No.1 Lydia Ko dearly on the second day of the LPGA Tour event in Kuala Lumpur.
Ko's two-under 69 improved on her even-par opening round 71, but she dropped three shots on the last two holes in a disappointing finish to the day.
In her first tournament since parting with Australian caddie Jason Hamilton, Ko sits eight shots off the pace set by clubhouse leader Amy Yang of South Korea.
The 19-year-old New Zealander, using a local caddie, had looked in fine touch on day two, carding five birdies over 16 holes, including three in a row after starting on the back nine.
But she bogeyed the par four eighth, then went on to find the water at the ninth to end on double bogey.
Ko's fortunes have dipped in the second half of 2016, and she has failed to win a title since July.
She has finished 20th or worse at her last three tournaments, including a 51st placing at last week's LPGA event in Incheon.