Population challenge for fisheries policy

NZ Newswire
13/09/2016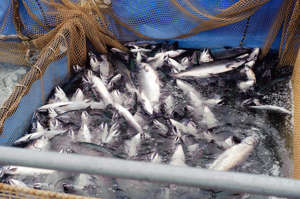 © Mark Coote/Bloomberg New Zealand King Salmon's Clay Point Marine Farm in the Marlborough Sounds, New Zealand A hands-off approach to managing recreational fisheries as New Zealand's population continues to grow has been described as unsustainable.
Research fellow Randall Bess, in a study released on Wednesday, says New Zealanders have the opportunity to avoid the problems seen in other coastal countries .
However, there are key challenges, including "an underlying problem of complacency" in managing recreational fisheries.
"In New Zealand, successive governments have been unsuccessful in changing the way recreational fisheries have been managed," he said.
"Management remains largely hands off; the few regulated controls are often ineffective in constraining recreational fishing effort and catch."
The study - What's the Catch? Recreational Fisheries in NZ - has been released by the New Zealand Initiative, an independent public policy think tank, which is preparing two other reports on the issue.
Dr Bess said New Zealand had one of the most relaxed recreational fishing regulatory environments in the world.
About 600,000 New Zealanders fished recreationally each year in inshore waters and many of them placed great importance on the ability to take home a day's catch.
But as the population increased, fisheries would feel the strain and a more hands-on might be needed.
"When considering New Zealand's projected population and tourism growth, particularly in the Auckland region, it is expected that recreational fishers will face increasingly stringent constraints like daily bag and size limits," Dr Bess said.
"This approach does not look good for the future of recreational fishing."
Dr Bess pointed to the snapper fishery, the largest recreational fishery in New Zealand, as an example reflecting the downward trend to ensure fish stock sustainability.
Along the north-east portion of the North Island, the daily bag limit for snapper reduced from 30 fish in 1985 to seven in 2014.