Port Hills chopper set for recovery

NZ Newswire
15/02/2017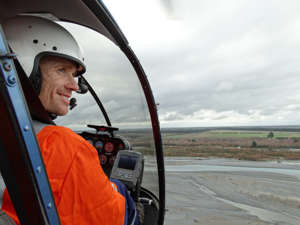 © Steve Askin / Facebook Steve Askin Investigators are preparing to recover the helicopter that crashed during firefighting operations above the Port Hills in Christchurch, killing pilot Steve Askin.

The Transport Accident Investigation Commission is hoping to recover the Squirrel chopper on Thursday morning.
Investigator-in-charge Ian McClelland and two colleagues spent much of Wednesday at the crash site, surveying the wreckage, taking notes and recovering some items.
The team is due to return early on Thursday to prepare the wreckage for airlifting to a secure area for further analysis.
Mr McClelland says much would depend on the weather and the fire, which reached within 1.5km.
However, there was no immediate danger to the crash site, he said.
If the process went smoothly, the airlift could happened between 11am and noon.
Mr Askin, a 38-year-old father of two, died at the scene of the crash near Sugar Loaf car park on Tuesday.
He was a former member of the SAS and received the New Zealand Gallantry Star, the country's second-highest gallantry award, in 2014 for his actions during a Taliban attack in Afghanistan three years earlier.