Ports of Auckland holds dividend unchanged

NZ Newswire
22/02/2017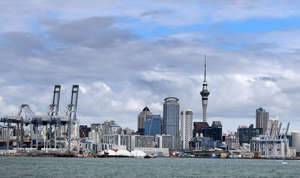 Ports of Auckland will pay its owner, Auckland Council, an unchanged first-half dividend even as profit fell and debt rose.
Net profit fell to $29.3 million in the six months ended December 31 from $31.6m a year earlier, the port company said in a statement. Sales rose 4 per cent to $110.5m while expenses rose 3.2 per cent to $73.6m.
The company's release showed container volumes rose 4 per cent to 493,665 in the first half. Multi-cargo volume rose 8.8 per cent to 3.26 million tonnes, which it said reflected higher volumes of imported cars and construction materials. Cruise ship visits fell by three to 28. Car volumes rose 17.6 per cent to 145,883 units.
It will pay a first-half dividend of $25.3m, from $25.9m a year earlier, which will help the council "fund vital infrastructure projects and manage the cost of Auckland rates," said chief executive Tony Gibson.
Debt rose to $266.6m from $218m a year earlier.
The port company is owned via the council's Auckland Council Investments and "serves Auckland's growth". Dividends in the 2016 financial year of $54.3m were the equivalent of 4.4 per cent of the average Auckland residential rates bill, or $104 per household, it said.
In an update of operations, the port said it was continuing to roll out its North Island freight hubs with construction underway in the Waikato and the first freight handling facilities expected to be in service by late 2017 or early 2018. It was continuing to make progress on a strategic alliance with Napier Port.
Ports of Auckland said it has set a target of being carbon neutral by 2025 and having zero emissions by 2040.