Post mortem due in Nelson death

NZ Newswire
5/08/2016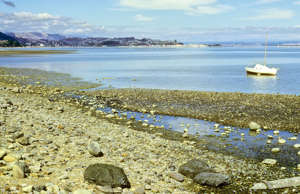 © Education Images/UIG via Getty Images Coast at low tide, Pebble beach, Nelson Haven from Marybank, New Zealand A post mortem examination is expected to reveal more about a man whose body was discovered on a boat moored in Nelson.
The man's body was discovered in the back of a white boat at Nelson Haven, opposite a skate park on State Highway 6, on Thursday morning.
Police know who he is but only identified him as a European man on Friday.
Detective Inspector Paul Borrell said the man had been assaulted.
A post mortem examination was likely to be held on Saturday afternoon, he said.
The death is being treated as suspicious, but police are yet to establish if it's a homicide.
The man did now own the boat where his body was found.
The scene examination is expected to take several days and involves three boats moored in the area.
Officers said they were following some positive leads from the public but were seeking further information.