Posties track down their man

NZ Newswire
11/09/2016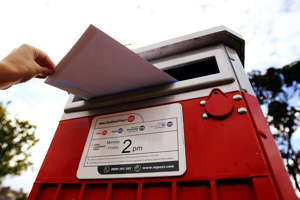 © Hannah Peters/Getty Images NZ Post Gisborne posties have proved their mettle and managed to deliver a letter graced only with a rambling, eight-line description of the person it was meant for.
Scott O'Brien was stunned to get the letter at his home in Tiniroto, inland from Gisborne, when he saw how it was addressed:
"Scott, from Scotland ... aged about 60/70?? ... corner of Tiniroto Road (almost). By a bridge. Has a Japanese wife -- who may be older but looks about 20 ... also has a daughter, about 3. Loves history ... Good sense of humour ... tells a good tale ... Rural delivery area, sort of south east of Gisborne."
The Gisborne Herald reports the letter had been sent by George MacLachlan, who wanted to catch up after striking up a conversation with Mr O'Brien while he was delivering phone books around the district.
Mr O'Brien said the pair spoke for about half an hour outside his home.
"The next I heard from him was this letter and it's amazing it arrived."