Power cut to protect Northland

NZ Newswire
5/02/2017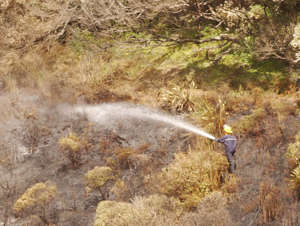 © Ross Setford/Getty Images Firemen dampen down the hotspots after a scrub fire Power has been cut to about 30,000 households in Northland so firefighters can fight a scrub fire safely.
The fire covering three hectares of scrub at Springfield, south of Whangarei, is under the main power transmission line to the region, the Fire Service says.
Transpower, operator of the national power grid, says it has removed its 110kV network in the area from service to ensure those fighting the fire are safe.
That means power has been cut to homes in Maungataupere, Kaikohe, Whangarei and Kaitaia.
"We are working closely with the Fire Service around when it will be safe to return the lines to service," a Transpower spokeswoman says.
Transpower is also looking at alternative ways to supply power to the region through the rest of the transmission network.
A dozen fire appliances and helicopters are fighting the blaze, which started about 4.30pm on Sunday.
There Fire Service has said houses are in danger.