Price fourth at Luhmuhlen three-day event

NZ Newswire
19/06/2016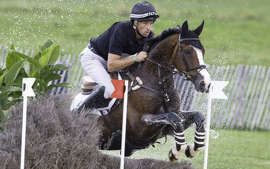 Kiwi rider Tim Price went clear in the final showjumping phase at the Luhmuhlen Horse Trials in Germany, but four time faults dropped him a place to fourth overall.
Fifth following the dressage on Ringwood Sky Boy, Price had eased into third place after the cross-country phase but couldn't haul back overnight leader Andreas Dibowski on It's Me.
The German went clear and under time to take the win with 43.80 points.
Frenchman Maxime Livio, riding Qalao des Mers, also produced a faultless showjumping round to hold onto second with 44.90 while dressage leader Julia Krajewski and Samurai du Thot went clear to snatch third from Price with 49.00.
Ranked 10th in the world, Price's 50.20 was fractionally ahead of fifth-placed compatriot Andrew Nicholson's 51.90 on Qwanza after the six-time Olympian also went clear.
Nicholson's second mount Perfect Stranger, making his four-star debut, produced a faultless showjumping round to take seventh on 54.70.
The result emphasised Nicholson's return to form less than a year after suffering a serious neck injury when he fell heavily during the cross-country phase of a three-star event in Gatcombe in August.