Prominent Kiwis back free speech

NZ Newswire
3/04/2017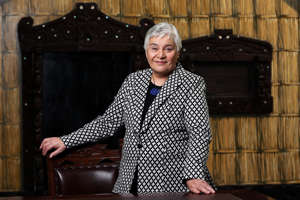 © Hagen Hopkins/ Getty Images Dame Tariana Turia is among 27 signatories to the letter Prominent Kiwi politicians and academics have banded together to pen an open letter warning free speech is under threat in New Zealand universities.
Former political opponents, such as ex-National leader Don Brash and ex-Labour and Maori Party MP Dame Tariana Turia, as well as former prime minister Geoffrey Palmer, are among 27 signatories to the letter.
Auckland University history professor Paul Moon helped organise the letter and says free speech is already being attacked in universities overseas by people branding opinions they did not agree with as hate speech.
"[When you brand or accuse someone of hate speech, it] is something that is very difficult [for them] to remove and is a bullying and fairly cowardly way of dealing with issues," he said.
"It becomes a way by which certain people, if they are scared of your opinions ... rather than come up with a good alternative, they simply say your opinion amounts to hate speech, it should be shut down."
Prof Moon said one poll in the United Kingdom found 90 per cent of its universities had experienced an instance "where free speech was quashed".
"We see that as an avalanche that is potentially about to hit New Zealand and rather than deal with the aftermath we thought it would be a good idea to try and prevent that from affecting us," he said.
He said the letter was aimed at New Zealand's political leaders and came after there had been calls by the likes of Human Rights Commissioner Dame Susan Devoy to review and strengthen hate speech law.
"When you start shutting down freedom of speech, you very quickly start shutting down freedom of thought and so it is a dangerous thing for society,"Prof Moon said.
The open letter has also been signed by Maori academic and teacher Sir Toby Curtis, poet Albert Wendt and businessman Sir Bob Jones among others.