Prop Sipley excited at a second NRL game

NZ Newswire
15/06/2016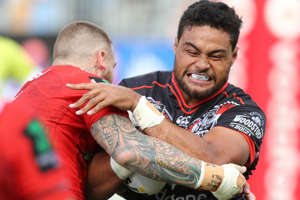 After 10 months out with a knee injury, Warriors prop Toafofoa Sipley is happy just to be playing rugby league.
So it's no surprise the excitement levels have shot up as he prepares for a second NRL appearance in his rookie first-grade season.
Jacob Lillyman's Queensland call-up for State of Origin II has resulted in Sipley being added to the bench for the match against the Sydney Roosters in Auckland on Sunday.
Sipley made his NRL debut, getting 11 minutes as a substitute, in the win over St George Illawarra in early May, when the Warriors stood down six players after a late night out.
The 21-year-old former Junior Warriors skipper says he would have been content if that was his one and only first-grade match of the year.
"I've come off a big injury, so it made me miss the game so much that I would be happy with wherever I came back to play," the 21-year-old said.
"To get a second NRL appearance is a blessing."
Sipley's rehabilitation delayed his start to the season and he admits the lengthy time out was tough.
"But I really practised patience," he said. "I knew I would be back playing footy and it has all paid off."
He said the message from coach Andrew McFadden this week was just to go out and play his own game.
"I kind of build myself on a strong running game so I try to bring that to the team and just bring a lot of energy for the boys."
The Roosters will have a propping rotation that includes Kiwis Jared Waerea-Hargreaves and Sam Moa as starters.
"He's a big unit," Sipley said of Waerea-Hargreaves.
"But at the end of the day, I've been told he's got two feet and I've got two feet and it comes down to who does it best."