Property investors don't like new deal

NZ Newswire
19/07/2016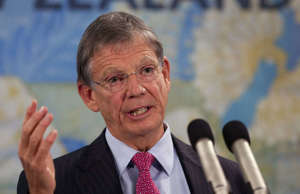 © File Image Reserve Bank governor Graeme Wheeler The organisation that represents the country's landlords says the Reserve Bank is cracking down on property investors because it wants to lower interest rates.

The bank is moving to take some steam out of the housing market by making investors front up with 40 per cent deposits on nearly all the mortgages they apply for.
It's an extension of the 30 per cent investor threshold in force in Auckland, and from September it will cover the whole country.
"It appears that the purpose of the LVR (loan-to-value ratio) tightening is to allow the Reserve Bank to lower interest rates, thereby stimulating the economy and lowering the NZ dollars," said Andrew King, executive officer of the NZ Property Investors' Federation.
"They are more interested in their KPIs (key performance indicators) than in the effect on tenants or people trying to prepare for their retirement."
The bank has been wary about cutting interest rates because cheaper mortgages could add more fuel to the housing market.
The bank expects the LVR extension will reduce house price inflation by two to five per cent, and cut sales by five to 15 per cent.
Prime Minister John Key says it made the right decision.
"The balancing act, which I think the Reserve Bank has got about right, is that it doesn't want to take investors completely out of the market because they buy properties that people then rent," he told reporters.
"It's one small part of solving the issue."
Opposition parties also back the move but they're criticising the government for not changing tax rules around property investment.
"The government is still the property speculator's best friend," said the Greens' Julie Anne Genter.
"It has made it easier to buy a third, fourth or fifth house than your first."