Public access to Kaikoura priority: NZTA

NZ Newswire
29/11/2016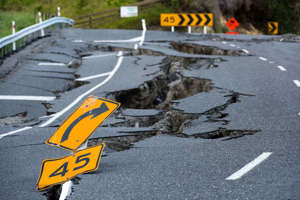 © Marty Melville / AFP Earthquake damage to State Highway 1 is seen south of Kaikoura. More regular opportunities for supervised travel on the only road in and out of earthquake-hit Kaikoura are being scheduled, the New Zealand Transport Agency says.

Last Friday, a convoy of private vehicles successfully left the coastal town via the the former State Highway 70.
Canterbury Civil Defence has formally transferred control of the inland route to the NZTA, which says increasing public access to the road is a priority.
Regional performance manager Pete Connors says the agency has established a daily schedule and there is a website and phone number that people can use to register to travel.
For safety reasons, only those who register will be able to travel during the scheduled times.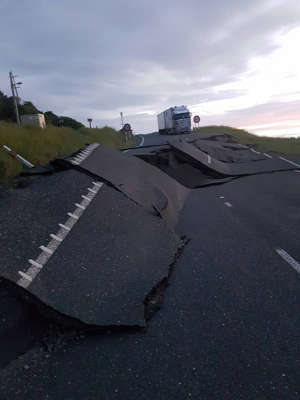 © @danielbullen / Twitter A photo on Twitter shows damage to State Highway One near Kaikoura. Mr Connors said 25 crews have been out along the 95km-long road clearing slips, inspecting bridges and getting it to a state where it can be used safely.

He said the road remained fragile and hazardous, but good progress was being made and controlled access for military vehicles and essential services had been established.
The November 14 quake cut off State Highway 1 to the north and to the south of Kaikoura.
Mr Connors said contractors were working hard to re-open SH1 to the south.
He said the aim was to have controlled, single-lane access for residents and essential services by mid-December, depending on weather and any further earthquakes.
While some work had been carried out on SH1 north of Kaikoura, the risk of on-going large aftershocks made conditions too unstable to allow engineers to carry out detailed inspections.