Pulse target consistency against Steel

NZ Newswire
23/04/2016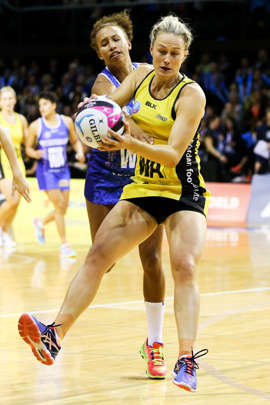 Central Pulse must cut out their fluctuations in form if they want to beat Southern Steel in Invercargill on Sunday, coach Tanya Dearns says.
The Steel top the New Zealand conference with two wins and a draw, and have looked a sharper, more ruthless unit under new coach Noeline Taurua.
The Pulse have also impressed this season, despite the late loss to injury of key shooter Jodi Brown.
A new-look midcourt featuring Australians Chelsea Locke and Jacinta Messer, and the steadying hand of centre Elias Scheres, has settled in well but the team as a whole has lacked consistency.
A first-up 57-56 win over the Magic was followed by a dismal 61-45 loss to the defending champion Queensland Firebirds.
The Pulse were equally unpredictable against the Northern Mystics last week, reeling in a nine-goal deficit before drawing 52-52 in a game they could have won.
"It was a game of about five different halves - it was a bit disjointed, and we just didn't find enough consistency to put the game away," Dearns told NZ Newswire.
"That's the nature of the beast, we've got to play into our season. But I'm a bit of a perfectionist, and I want it to happen now."
The former Silver Ferns defender says it's important the Pulse concentrate on their own game rather than get too tied up in focusing on the Steel, whose game revolves around the impressive target offered by 1.98m shooter Jhaniele Fowler-Reid.
The Steel's pacy attacking third, complemented by some rangy, mobile defenders provide challenges across the court for the Pulse.
Dearns has targeted a stronger start from the Pulse this week, and says they need to concentrate on what they do well.
"When we turn and let the ball go, when we play with width and play with length, we look really good.
"It's all about that word consistency - we don't do it enough. But that's what we're trying to strive for, that game where we've got nice open areas, and plenty of space to play into."