Putin's French Gambit Backfires as Presidential Leaders Fade

Bloomberg
17/03/2017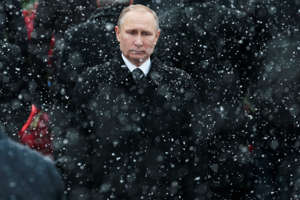 © AP Leave it to fickle French voters to ruin Vladimir Putin's newfound reputation as a kingmaker in the West.

Putin's current favorite in France's presidential race, Francois Fillon, has tumbled in the polls amid a probe into whether family members received state money for work they didn't do. The Russian leader lauded the former premier in November, just after Donald Trump won the White House amid allegations of Kremlin meddling through a covert offensive by an army of hackers.
The endorsement of Fillon, whose fortunes faded further Tuesday when he was charged with misuse of public funds, was unprecedented, particularly since a bank linked to a Putin ally had funded rival candidate Marine Le Pen, the far-right firebrand who's called sanctions on Russia "completely stupid."
With the first of two rounds less than six weeks away, Putin's strategy appears to be backfiring. While polls show Le Pen with a slight lead over Emmanuel Macron, a 39-year-old independent who backs European Union penalties on Russia over Ukraine and accuses the Kremlin of cyberattacks on his campaign, they also show her losing a run-off by a landslide.
"The full range of instruments has now been put into action in France," said Oleg Morozov, a former senior Kremlin official who now sits on the international affairs committee in the upper house of parliament. Russia denies hacking and Morozov said the instruments in question include diplomats as well as "agents of influence" -- sympathetic insiders who can act as intermediaries or help Russia improve its image.
Divide, Negotiate

The outcomes of the May 7 finale in France and Angela Merkel's bid to remain chancellor of Germany in September are the most keenly anticipated political events of the year for the Kremlin, which has long sought to weaken European unity and negotiate with countries individually.
Russian officials took satisfaction at the decision U.K. voters took last year to quit the EU, leaving Merkel -- and possibly now Macron -- as the bloc's most prominent defenders. The exit by Britain, which helped lead the push for sanctions over Russia's annexation of Crimea and military intervention in Ukraine in 2014, may make it easier for Putin to get those penalties lifted.
But a victory by Macron, a former economy minister and investment banker at Rothschild & Cie Banque, would make any rapprochement unlikely. The political novice has taken a tougher stance on Russia than any of the leading candidates, calling for continued EU pressure on the Kremlin and labeling Fillon a "Putinophile" for opposing sanctions.
"He's not the most preferred partner for Russia," said Andrey Kortunov, head of the Russian International Affairs Council, a Moscow-based research group set up by the Kremlin. "He's too much of an EU enthusiast, whereas Fillon is a known quantity and has friendly relations with Putin."
Hacking Alarm
Russia has been accused of interfering in EU elections the same way U.S. intelligence agencies say it did last year in the American presidential race, which included hacks on the Democratic National Committee and the personal email of the campaign chief of the party's nominee, Hillary Clinton.
France's cybersecurity watchdog has warned that the same groups that broke into the DNC's computers are "insidiously" seeking to influence French voters, too, though it's stopped short of accusing Russia directly.
European governments have been alarmed by Putin's years-long courting of anti-establishment parties that are now on the rise across the continent. The most explicit support was the 9 million-euro ($9.6 million) loan that Le Pen's anti-immigration National Front received in 2014 from a small bank in Moscow, where she became a frequent visitor.
Russian officials have had their eye on Macron since at least January 2015, when he made a series of promises during a trip to Moscow that he later reneged on, mainly that his boss at the time, President Francois Hollande, would push for sanctions relief, according to Pavel Shinsky, the head of the Franco-Russian Chamber of Commerce and Industry.
"He mentioned a whole series of steps worth taking to help the position of French companies, but nothing came of it," Shinsky said. "Moreover, he reversed himself on sanctions once he returned to Paris."
'Gay Lobby'
Russian financing of Le Pen appeared to end last summer when regulators closed the lender that had funded National Front, forcing the party to hunt for a new source of money. Then in November, after Fillon emerged as the leading Republican contender, Putin moved quickly to embrace him, telling reporters during a carefully scripted appearance that they had "very good" relations.
The decision to pivot from Le Pen to Fillon was a calculated gamble that Russia could achieve its goals without risking considerable political and economic blowback from backing a candidate who wants France to abandon the euro, according to Kortunov of the Russian International Affairs Council.
"If the mainstream isn't a lost cause and you can work with it, then of course such a focus on marginal political forces is counter-productive," he said.
After Macron surged ahead in the polls last month, the Russian state news service Sputnik published an interview with a Macron critic who accused him of being a "U.S. agent" and a frontman for a "very wealthy gay lobby."
Official Warning
A week later, the head of Macron's En Marche! movement accused Russia of seeking to sabotage the new front-runner through a dual campaign of hacking and fake news reports. That prompted the Foreign Ministry in Paris to issue a stern warning to the Kremlin not to interfere in the elections.
Russia is clinging onto some hope that traditionally pro-Russian political forces will retain their influence in France, particularly since polls show that Macron is unlikely to command his own majority in parliament.
"Betting everything on just one candidate is a primitive way to understand politics," said Morozov, the senator. "There are contacts with Macron as well as with the other candidates."
Macron, who visited Berlin on Thursday to meet German Chancellor Angela Merkel, told reporters that Russia didn't come up in the discussions. And Fillon's legal woes worsened as investigators began looking into gifts of tailor-made suits he received from a yet-to-be-named benefactor. A new Odoxa poll said that 89 percent of the French agree Fillon "isn't honest."
A group of Russia-friendly French lawmakers was in Moscow this week for talks on ways to lift sanctions and restore ties. The leader, Thierry Mariani of Fillon's party, has twice visited Crimea in defiance of warnings by Paris.
Yuri Rubinsky, a long-time Russian diplomat in Paris who now runs the French studies program at the state-funded Institute of Europe in Moscow, said there's not much more the Kremlin can do but sit back and wait.
"These elections have turned out to be the most unpredictable ever," Rubinsky said. "Russia can only watch from a distance."
Thursday's daily Ifop poll said Le Pen would take 26.5 percent and Macron 25.5 percent in the April 23 first round, and Macron would defeat Le Pen by 61 percent to 39 percent in the May 7 second round. Fillon's support was at 18 percent in the first round, meaning he'd be eliminated.